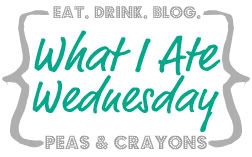 Happy Wednesday, foodies! I'm finally back to participating in the big Wednesday link party– What I Ate Wednesday. I hope you enjoy my eats from yesterday… (it wasn't as healthy as I would have liked)
I couldn't decide if I wanted cereal or yogurt, so I had both. It was kind of a weird mix of flavors and consistencies, but I just can't get enough of Vosko's Greek Yogurt, honey vanilla bean flavored. It's so delicious and filling. The cereal is also new to me–gluten free and somewhat sweet, maybe a little too sweet but I love the crunch of it.
Lunch was at one of my favorites in Dallas: The Porch. I met up with two of my very best friends (we've been friends for almost 11 years!) and had a nice relaxing time. I had their three cheese grilled cheese with a side of tomato basil soup. So good and satisfying.
Yeah, dinner was boring. I didn't get to have dinner til late, and by that time, I wasn't feeling too foodie inspired. I had spelt whole grain spaghetti with pesto, and a side of my favorite honey crisp apples.
And finally just for fun…

My sweet boyfriend took me to go look at puppies last weekend, and I can't seem to get this one cutie off my mind. I'm waiting until graduation (May) to get one, but I absolutely love these golden doodles. Anyone have one? What are they like?