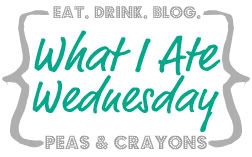 Happy What I Ate Wednesday, everyone! I realize I haven't been so great at participating in this fun link party consistently, but I will definitely make sure to start doing it at least every other week.
School started on Monday and my focus has been eating whole foods, no processed foods, and as many fruits and veggies as I can possibly fit in. Since I have a little more time on my hands due to a lack of classes, I have been able to eat several small "meals" throughout the day. I haven't spoken much about my passion for healthy living, so I'll have to save that for a future post!
Ok, here we go.
Breakfast
Looks really good, right? Wrong. This was so gross, I ended up throwing it out after a few bites. It's multi grain microwaveable oatmeal with bananas and a dollop of white chocolate peanut butter. I see this nut butter/oatmeal combo all over the health food blogosphere and I've been intrigued. Now I want to know how you all stomach that. Maybe I've got the wrong kind of oatmeal–kind of mushy and glue-like. I'll give it another chance with a different kind of oatmeal. So my real breakfast was a fried egg and a piece of toast. Much better.
Lunch
The chicken caprese panini. This new addition to my lunch options was warmly welcomed by my taste buds. Much more satisfying than breakfast. It was super fast to make since I thinly sliced two breasts of chicken and grilled them a few nights ago, so now I have chicken to put in sandwiches. I also added grape tomatoes, sliced marinated mozzarella balls, basil and a drizzle of balsamic dressing. It was so delicious with the melty mozzarella and the hints of basil. Mmmm. Kept me full all day long.
Dinner
For dinner we went to Penne Pomodoro, which can sometimes be a little disappointing especially for a Lombardi restaurant. I shared this pizza bianca con prosciutto, a white pizza with prosciutto, mushrooms, mozzarella, parmesan, all topped with a mound of fresh spinach. It was alright, but I prefer a pizza with marinara sauce.
Snack not pictured: a mini white chocolate peanut butter sandwich. This peanut butter is to die for.
I love this brand and I can't wait to try their other flavors. Think glorified and healthier version of Nutella. What's not to love?
I know I promised the Oak Cliff pizza spot…but that will just have to wait for tomorrow. Stay tuned foodies!
Please become a fan of That Foodie Girl on Facebook, and follow @thatfoodiegrl on Twitter for updates and fun foodie tips.
Bon appétit,
ThatFoodieGirl